If you missed the Collect 2021 series of talks, they are now all available to view online on the Crafts Council website. There are insightful conversations where makers discuss their creativity in depth, and panel conversations from experts in the field of craft and design.
I was honoured to have my wax wildflower sculpture 'Life Support, May 2020: Dog violet, Viola riviniana' selected for discussion at the VIP Collect Selects: Textiles and New Materials, in association with the V&A and RCA along with five other makers. The event brought Dr Christine Checinska (Victoria and Albert Museum) together with Anne Toomey (Royal College of Art) to discuss their selection of stand-out objects at this year's Collect Art fair. You can catch up with their discussion here: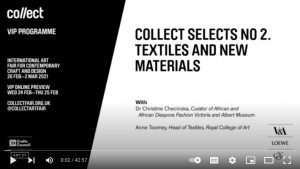 I also took part in Ruup & Form's Artist Tag Talks, a series of group conversations exploring the meditative creative process, as part of the Ruup & Form 'Meditation in Material' exhibition which was curated for Collect 2021. Click on the link below to view the 2nd conversation where Anne Butler (ceramics), Eva Fernández (interdisciplinary), Jessica Jue (silversmith), Melissa Aldrete and Luis Cárdenas (ceramics), Line Nilsen (textile) and I talk about our process and materials with director Varuna Kollanethu.
https://vimeo.com/521393717

The Collect 2021 fair continues online via Artsy until 24th March and Meditation in Material will be on show at the Ruup & Form gallery until 30th April 2021.